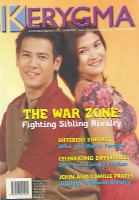 Siblings Without Rivalry
From: Kerygma Issue No.: 152
[February 2003]



"I think that what strengthens our relationship is the blood ties. She's my sister; we were raised together and knowing that makes me aware that she's one of a kind... irreplaceable." That's how young actor John Prats describes his relationship with sister Camille.

Despite being teen stars, it's amazing that the siblings were able to manage working together without rivalry. Both were featured in ABS-CBN's youth- oriented program "G-mik" and went on to work together on various other projects. Even through the busy schedules, they can still find quality time to spend together.

John and Camille have a lot in common. they describe themselves as kenkoy (clowns) and confess that they do like the same color, blue. But the siblings also have their share of petty quarrels, especially when John takes her CD's without permission. But everything is soon patched up. John owns up quickly though and apologizes for his misdemeanor. A kiss and a hug make everything all right.

John and Camille prop up each other when one or the other is in need of encouragement. "When you feel you can't do anything," Camille constantly reminds her brother, pushing him to dream big despite the bad turns they encounter once in a while.

And with this kind of partnership in the cutthroat world of showbusiness, John and Camille Prats- siblings- are undoubtedly set for life.