John Prats on his own
By: Marinel R. Cruz
From: Philippine Daily Inquirer [July 12, 2004]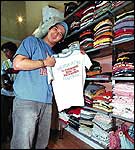 On his own, finally

After being half of a love team with Heart Evangelista for three years, heartthrob John Prats admits he is excited to finally be on his own.

"I know I have talent," says John at the Prats home in Cainta, Rizal. "I really don't need a love team to be a good actor. It's my time now."

John, 20, says that when it comes to acting, he admires Tom Cruise for the Hollywood actor's versatility. "I'm touched by the characters he has played," he says. "I want to be able to portray similar characters."

After this Out of the Closet visit, John's pairing with Maja Salvador on the ABS-CBN soap series "It Might Be You" was formally launched. ABS-CBN would later announce that Heart would be paired with commercial model Geoffrey Eigenmann in its newest series, "Hiram."

"Heart is very thoughtful and sweet," says John of his former partner. "We were together almost every day for three years because of our work. We got to know each other very well. But we've not seen each other since 'Berks' folded up."

In an interview on the show biz talk show "The Buzz," John said he enjoys spending time with Maja. "Masarap siyang kausap," he said. "I can easily talk with her on just about anything."

In "It Might Be You," John plays Gian, the son of the driver of the family of Lawrence (John Lloyd Cruz).

"Gian is kind-hearted and intelligent, but he lacks self-confidence," says John, adding that the soap character is his exact opposite. "I'm very sociable. I'm cheerful, while Gian is very shy. But when it comes to fashion, we jibe."

He agrees with Gian on the latter's choice of jeans, sneakers and shirts. Only, John likes to accessorize by wearing an earring and expensive hats and caps.

John takes Inquirer Entertainment to his third-floor room and shows us his cap collection, which includes an expensive trucker hat he bought in the US for $89 and a vintage Schumacher cap that he considers his most precious possession.

John shares closet space with his younger sister, Camille Prats.

Hats. "What you're seeing now is only half of my entire collection. Some of them are in our house in Quezon City. Here, I have my Michael Schumacher caps, including the Schumacher professional and fan caps that I got in 2000.

"But what I consider most precious is the 1997 Schumacher hat. It's a rare find.

"I also have BMW Ralph Schumacher caps but my passion is not BMWs. It's Ferraris, so I love Michael more, his brother. I also have trucker caps that I bought in the US last January. I bought six of them, the most expensive of which cost me $89."

Dirt bike helmet. "Yamaha gave this to me. It's from Suomy. But my dirt biking gear is in the other house."

Toys. "Onemig Bondoc gifted me with a Ferrari miniature car on my 18th birthday. He influenced me into collecting Ferrari items."

Shirts. "Most of my shirts are from Bench. I like them all, but my favorite is this light blue one that says 'Go forward, don't go backwards.' Wala lang. May message 'di ba?


Betty Boop shirt

"But among the shirts that I bought in the States, this Betty Boop shirt I'm wearing is the most special. I bought it in Las Vegas. This shirt means men can wear Betty Boop, too."

Polos. "I like pink in polo shirts, like this Mickey Mouse shirt my aunt gave me. I also love wearing bright-colored and 'cartooney' shirts because they cheer me up.

"Most of my polos are also from Bench. I have no trouble choosing shirts from Bench because, almost always, I like their style."

Shorts. "I like this pair because it has my lucky number, 14. My birthday falls on a 14. I wear this whenever I play basketball.

Jeans. "I like this Bench pair that I'm wearing because of the fit, very relaxed and comfortable.

"I had this other pair of jeans made from a fabric that I think was curtain material. I match it with a white T-shirt and a pair of orange or blue Chuck Taylor rubber shoes."

Formal suits. "I wore my newest suit at the Star Awards for TV. Vic Barba made it for me.

"My only request of designers is that when it comes to suits, I want the length of the pants to be just right. I don't want them crumpled when they touch my shoes. I also don't like pleated pants.

"For the coat, I don't go for the double-breasted type, because it's so old school. I like the four-buttoned ones."

Jackets. "My favorite is my gray-orange hooded jacket from Bench. I wore it at a Bench pictorial and everyone liked it. It looks like it's warm but it's not.

"When I work out, I use this jacket that's made of a water-repellant fabric. It's good for cardio exercises. If I zip it all the way up, it really makes me sweat.

"I don't go for loud-colored clothes. Gray is my favorite color. But I also have a red jacket, a Ferrari jacket. I like it because I'm a Michael Schumacher fan. I bought this in LA last January. But when I travel, I wear my road bike jacket. It's really warm. I hardly wear it now that I'm into dirt biking."

Bags. "I filled my favorite bag with Ferrari pins. I like it because of its color-Ferrari red-and because it has a lot of pockets."

Shoes. "I've loved Converse since I was young. I've been wearing Chuck Taylors since 1992. When I was younger, I used to paint and write on my Chuck Taylors. What's good about Chuck Taylors is that they come in different colors and they always look good with jeans.

"I wear a pair of Converse Weapon when I play basketball. It's really comfortable and it's got good cushioning. When I dance, I wear an all-white pair. It's a Julius Erving classic from Converse. I don't know why, but I feel more confident wearing them when I dance."

Scents. "When it comes to scents, I like Cool Water, Hilfiger Athletics and Curve. When it comes to scents, I don't like powerful ones. I want my perfume to smell like cologne."