Maxene Magalona & John Prats:
Beauty and the Beast
From: RegalFilms.Com [May 2005]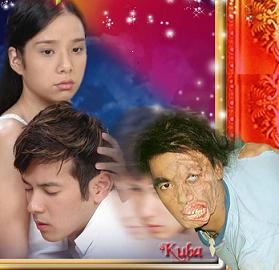 He is one of ABS-CBN's most popular, prized stars. She is one of GMA's most refreshingly beautiful teens. John Prats and Maxene Magalona are two of the most sought after young stars in the entertainment industry, admired and adored by fans of all ages. In the magical love story trilogy Happily Ever After, Regal Entertainment is pairing them for the first time on the big screen in the Playboy Kuba segment..

John Prats is Vince, a super handsome teen from Manila who flees to a nearby province to hide from a girl who is demanding that he marry her. Maxene is barrio beauty Laura, who is being forced to marry Eugene (Dion Ignacio), a man she has no feelings for. While fleeing their respective marital commitments, Vince and Laura meet and fall in love in a secret cave. But when Vince is told that he can return to Manila, he dumps Laura, angering her mangkukulam mother.

She curses Vince and transforms him into a hideous hunchback with an unsightly face to teach him a lesson. Will Vince be able to convince Laura's mom to reverse the curse and make him normal again? And were his feelings for Laura really just an act?

Maxene and John first worked together on a memorable episode of Vic Sotto's magical sitcom "Daddy Di Do Du"on GMA. Reaction to their chemistry was so positive that Prats was in talks to play a recurring character on the comedy, playing Maxene's avid suitor. Because of network politics, however, the plan never took off.

Playboy Kuba is just one of three fantastic love stories which comprise Happily Ever After. The two other stories are Multong Bakla, which stars Keempee de Leon as a gay ghost who is stalking Tyron Perez for humorous reasons, and I Love You Babe, with Rainier Castillo and Yasmien Kurdi as two spunky teens who are brought together by a cellphone sex scandal and a town feud. Happily Ever After is directed by award-winning hitmaker Maryo J. De Los Reyes. The whimsical, light-hearted movie will be shown in theaters late June.